Mobile apps are increasingly praised by the savviest of today's companies. Highly-regarded for being streamlined and convenient, their functions are developed around the most popular and essential needs, and they can be quickly implemented. This is a marked improvement over the large and cumbersome IT projects of the past through which many of us have suffered. It therefore shouldn't be surprising that employee apps are now a hot topic among internal communications specialists.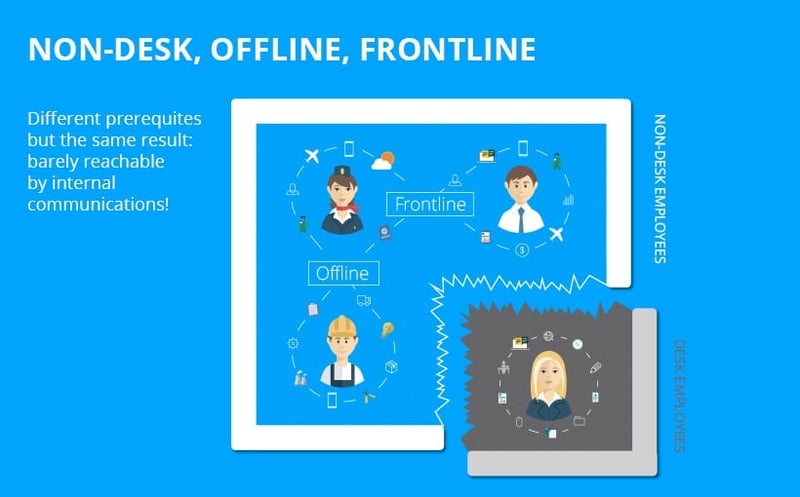 These days, every large company owns an intranet, which is mainly used for distributing documents, i.e., communication content. In most cases, intranets are accessible primarily via desktop PC. But employees who lack easy access to a PC aren't exactly a marginal group. And while in recent years intranet terminals have become increasingly common, both in warehouses and on the production level, they haven't exactly grown in popularity. This lack of engagement is particularly painful when the employees receiving the least amount of information are the ones who need it most.
The Benefits of a Digital Employee Communication Channel
As a new channel for internal communications, apps facilitate access to employees via their smartphones. This is true for devices provided by the company, as well as privately-owned ones. Accessing this new channel has many benefits compared to traditional communication media such as the intranet and email. Communication via the app encourages social interaction by allowing for feedback through comments, likes, and sharing, while also providing administrators with the ability to analyze the most engaging content.
These new communication elements establish a dialogue between top- and middle management and the operational level, but they also help communication officers identify important topics and actively manage them. Moreover, an app aligns with the digital transformation of the workplace and automatically compiles mobile-first content for your readers. Targeting content also becomes easier, allowing employees to receive only the information that's important to them, such as location- or department-specific news.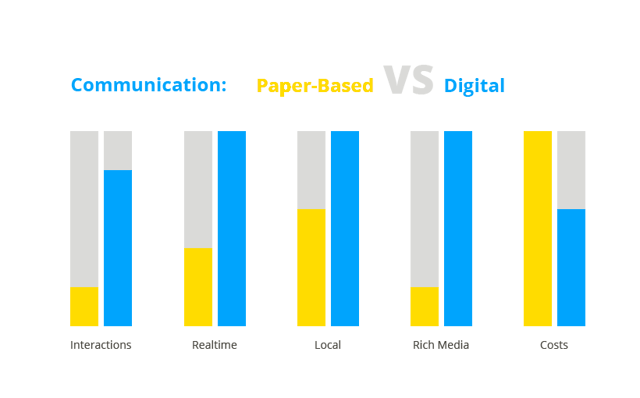 An Internal Communications App for iPhone, Android . . . and What Else?
The mobile operating systems iOS (Apple) and Android (Google) have more or less divided the market, so clearly an internal communications app needs to be made available for these platforms. But what about regular PCs and laptop browsers? Both of these are especially important when considering the possibility that employees might wish to use their personal devices. Writers, for instance, might want to process content on a larger screen, so it makes sense that the editing of articles and pages should be possible on both a PC and a mobile app.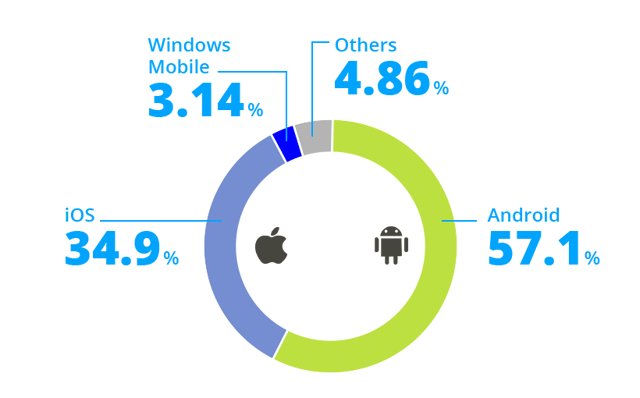 How to Implement an Internal Communications App—8 Key Points to Get Started
At first sight, the idea of an internal communications app might seem simple, but the topic can be rather tricky when looked at more closely. An app is more than just an additional channel for intranet content adjusted for responsive display on mobile screens.
We've compiled eight of the most important aspects of the basic challenges that need to be overcome.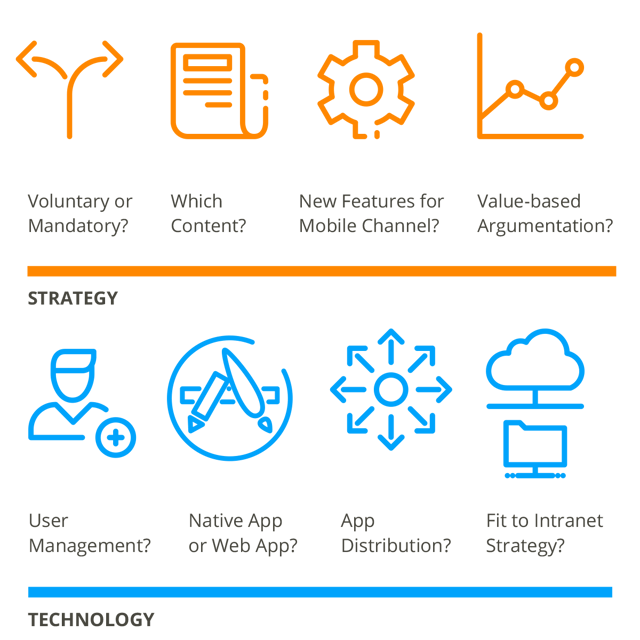 1. Voluntary or Mandatory?
Voluntariness is the basic principle of internal communications. In a perfect world, communication should be pointed toward as many people as possible (in other words, everyone)—but it should never be forced. To a large extent, employees decide for themselves which information from the company they want to have available. The more relevant this information is to their own work and interests, the more individually exiting it will be. Therefore, implementing an internal communications app means making access to your information a voluntary act, replacing in-house journals and bulletin boards.
Other use cases for the app are easlily conceivable, such as facile communication processes or making rosters or manuals accessible. As app use becomes more mandatory, employees need to be provided with the means to access it, such as company devices, or they should be reimbursed for work-related data charges accrued on their personal devices. Company-wide distribution of tablets, once restrictive due to their high costs, can now be run with proprietary Wi-Fi, eliminating the need for expensive, individual data charges.
2. What Sort of Content?
Modern intranets have come up with a growing number of new features to support use cases. While intranets were initially used to store frequently used documents, news and company communications were soon added. The next step was to establish employee portals that focused in particular on self-service employee processes, aka Employee Self Services.
The latest step involves the adaption of communities and project rooms, where teams can work together and all important documents can be stored. Four main use cases (information, communication, processes, and teamwork) build the basic framework for modern intranets and offer a starting point for the following question: Which use cases and related content need to be accessible on mobile?

Based on our experience, communication that reaches all employees via a mobile app is the first step. The second step is split between information (manuals, phone directories, menus, contact information) and processes (surveys, vacation-day availability, time cards). These steps should be managed by a limited number of employees, making it more safety-critical in general.
3. What New Features Does a Mobile Channel Need?
First of all, it's important to realise that an app alone isn't enough. Easy ways to fill the app with content are necessary. This means you need more than a single administrator maintaining an app kit, in addition to full-time and part-time editors who can create content easily and maintain it continuously with minimal training. There is also the need for a so-called Content Management System (CMS), which have been around for many years and were initially used for websites and later for intranets. But due to increasingly diverging requirements, the CMS used nowadays for intranets, as opposed to those used for the Internet, are hardly the same.
A mobile app demands a further specialization of an intranet CMS. One of the most important features is "push" functionality. Apps can display so-called push notifications on the home screen of a smartphone, actively informing and directly leading users to the app. Push notifications are a powerful tool, but users shouldn't be overwhelmed by them. If they are, their effectiveness will gradually wear off. Even worse, users might wind up completely disabling this feature on their device. A mobile app CMS should therefore regulate push notifications, limiting their creation to a limited number of writers and making their audience target-specific.
You can learn more about the management of push notifications from our T-Systems case study: How T-Systems Cuts Through the Noise with an Employee App.
4. How Do I Keep Users Up-to-Date?
This question is commonly raised in regard to all company-related IT applications. What's remarkable here is that an employee app target group will include non-desk employees who are generally unrecorded in any sort of IT system or user directory. Often these employees are only documented in personnel payroll systems. Thus the CMS needs to provide an easy method for importing employee lists that not only include a name and clear characteristics (e.g., an ID), but further personalization of information such as specific location or region.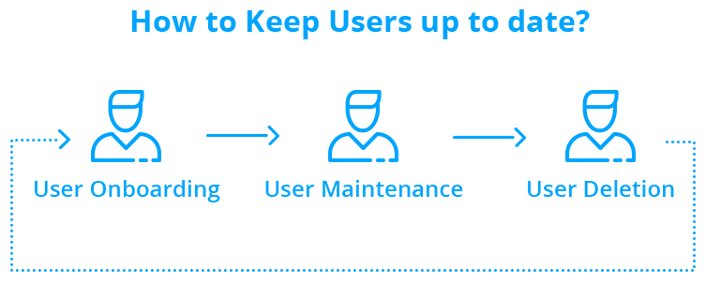 For details about user onboarding and the manangement of an internal app, check out this blogpost: How to Onboard Employees to an Internal Communications App.
5. Native App or Web App?
Native apps are well-known from private smartphone use: they are small programs downloaded from an app store or web address. The huge benefit that native apps alone provide is their ability to deeply affect the features of a device, for example, those which enable push notification functionality. Web apps, on the contrary, are nothing more than websites accessed through a mobile browser on the smartphone.
Web apps are easier to create, but they cannot be distributed like native apps and are incapable of enabling functions like push notifications. Even though developing and maintaining native apps is costlier, their functional benefits far outweigh those of web apps.
Hybrid apps combine these two worlds; they are native apps with a web app inside.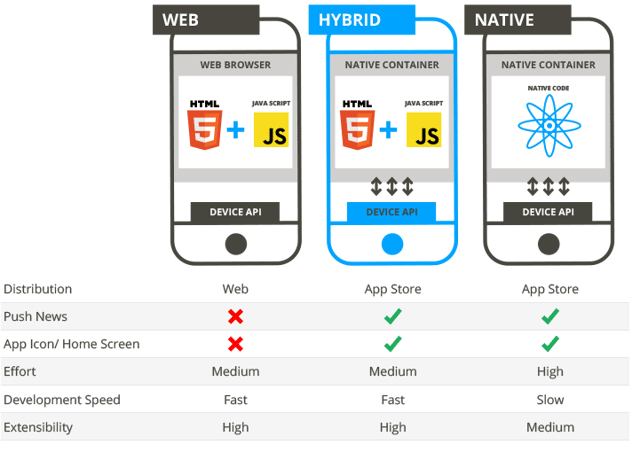 6. How Do I Distribute the App?
The Staffbase employee app, like most standard-product core apps, is distributed via the delivery option known as Enterprise Deployment. Customers receive a url, e.g., app.company.com/get. App downloads for iOS can be made directly from this address; Android users are guided toward the proper location for downloading the app. This deployment method provides a number of unique advantages to our clients—in regards to employee onboarding strategies, for example—and it enables great efficiency in scheduling and programming new app projects.
For a complete understanding of our distribution methods, please find further information in these slides.
7. How Does an App Fit My Intranet Strategy?
An employee app can be viewed as a channel displaying the intranet. In such cases, the aforementioned CMS is nothing more than the intranet itself. Most of the insurmountable challenges in this scenario result from information security and two related yet competing requirements. On the one hand, intranets host a growing stockpile of projects, documents, and business-critical information which must be reliably protected from unauthorized access. On the other hand, as many employees as possible should be able to access communication through their private devices, preferably without having to always enter login data. This results in a division between modern intranets: there's the traditional intranet and then there are company communication apps with their own CMS that stand apart from the actual intranet, securely offering only mobile-displayable content to employees. A mix and match approach will therefore prevail for future intranets.
8. How Do I Get Management Support?
"Given the ever growing digital revolution, many companies are driven by one question: How can we reach decisions quicker and implement them faster?" An employee communications app is an ideal tool for quickly and manageably establishing an interactive channel for all employees. This argument is by now widely known and it is supported by a large number of managers.
For a more detailed account of how to win your C-level for an internal comms app get our
free slides "Selling an employee app to your boardroom."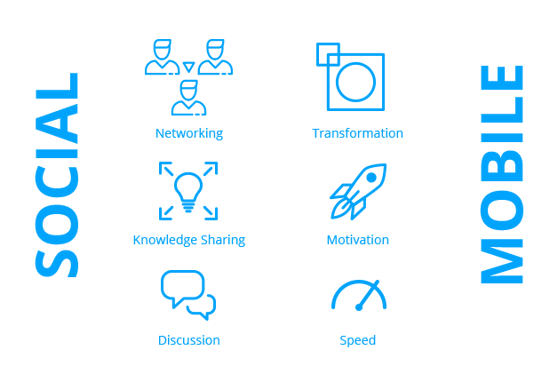 The Costs of an Internal Communications App
The initial development of a basic app based on a kit is financially manageable. Adding specific features and maintenance makes this solution costlier. App kits can't keep up with the highly specialized functionality of a mobile intranet CMS and are really only suitable for functionally basic apps such as those which distribute in-house publications. Providing an app for enterprise deployment and keeping it up-to-date requires the kind of continuous effort that most companies aren't prepared for compared to past intranet projects. Such an effort is rarely included in budget planning. The conflict between high costs and ever-increasing functionality-demands can only be settled with standard solutions. Costs of the app are calculated on the basic needs of the users, and they include continuous maintenance and development of its functions.
If you'd like more information on how to digitize your employee communication, you might also like: