For years, web content management systems or in short CMS have been the basis for the Internet. They are supposed to facilitate the creation, maintenance and publication of digital content yourself without having huge technical knowhow or programming experience. During the many years of existence, CMS systems have been specialised further. One of the most important distinction is between CMS systems for websites and for intranets. We have already discussed that it is not recommendable to use the same CMS for both the Internet and intranet due to recent requirements (link).
With the inexorable rise of the mobile channel, another dimension has been added leading to a further adaption and specialisation of intranet CMS. The specific requirements for an intranet app for internal communications to all types of employees like offline or frontline workers will be clarified further below.
Intranet CMS Software - Based on the Digital Workplace Strategy
Deciding on the right software requires knowledge of what is actually needed. In other words: a plan or strategy is needed. This does not necessarily involve weeks of workshops and theory, but can be realised pragmatically as long as some specific questions are answered:
What is the digital workplace needed for and what are the expected benefits, namely the so-called use cases?
How is success defined and measured?
What are the use cases' target groups and how can we reach them?
Which organisational framework is needed for operating the intranet and its use cases successfully?
These are only some of the questions being discussed at the beginning, but they help getting a feel for the long-term role of the intranet in the company. Fortunately, finding use cases is not that complicated. Many past intranet projects shows us, that organizations have similar views on what they want to achieve with the intranet. Due to our experience, there are 4 main use cases: communication, information, processes and teamwork. Teamwork is new on the wish list for new intranets and has been added some years ago in the course of Web 2.0 solutions in companies and so-called social intranets.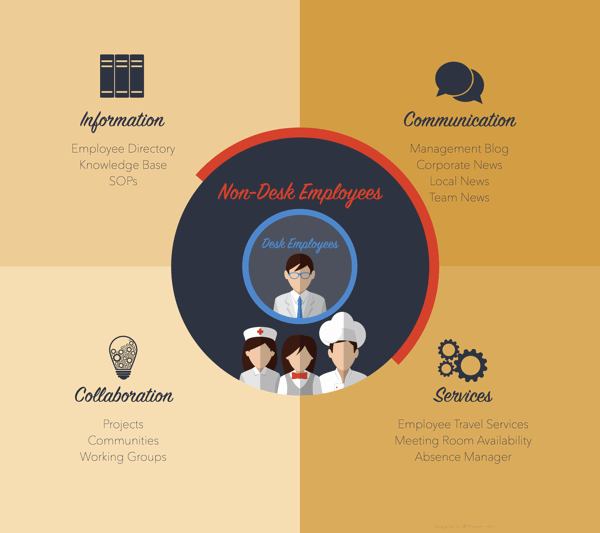 This is exactly where the real test for a modern intranet strategy begins. As understandable as these 4 uses cases and their benefit for modern intranets might be, as complicated is bringing everything under one roof. Especially through teamwork, many new, safety-critical contents get into the platform. The intranet as suddenly central project platform of companies has to meet much higher requirements when it comes to the prevention of unauthorised access. That's one side of the coin. On the other side, more than half of all employees on average have no personalised access to a PC at their desk. In this case, the intranet has to cover an as high as possible range and be accessible on mobile and private terminal devices of employees. And all that without logging in all the time.
The Mother of all Technology Questions - Single Platform vs. Best of Breed?
Modern intranets with a new combination of solutions will win through: on the one side, there are applications like Microsoft SharePoint focussing on teamwork and on the other side there are CMS applications focussing on communication and ideally supporting the mobile channel. From a technology point of view we see an old discussion of it strategy coming up: a single platform vs. a best of breed approach.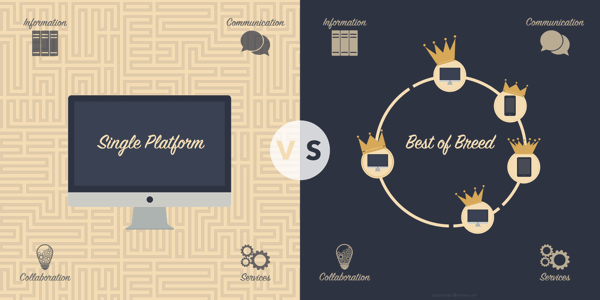 A single platform for the digital workplace has been the dream of CIO's for some years now. However, the upcoming top trends mobile and cloud change the game and will undoubtedly make best of breed approaches the choice of the future. Why? These are the key reasons:
The requirements for use cases like project management, communities or communication are getting a lot more specific and keep adding new approaches and trends from the web. A single platform is unable to cope with that speed and, at the same time the required attention to details in every corner of the platform.
As mentioned above, the digital workplace use cases have different target groups with an ongoing fight between "great reach" and "great security". For a single platform it is very hard to provide a convincing solution that serves the needs of all employees.
Standard cloud solutions are more cost effective than platforms with specific and often expensive customizations.
The rise of apps and mobile is the living proof that a best of breed approach can be extremely user-friendly and easy to maintain. Look at the home screen of your iPhone or Android device and you see pure best of breed!
Single platform approaches had an unpleasant side effect in the past: shadow IT. Whenever a single user or a department was not happy with what they got from IT, it is very easy now to purchase a software as a service solution on the web. Best of breed standard tools are up to date and deliver happier users and less shadow IT.
The requirements for a mobile intranet CMS are emerging out of this combination. While there are numerous vendors for social collaboration solutions, we missed a standard tool for mobile employee communication and information. The goal of this series of article is to look deeper into requirements and show whats really needed to reach all of your employees. These features reflect the requirements of hundreds of companies of different branches and sizes to whom we have been able to speak on the subject of intranet and have worked with during the last years.
Part 2: Mobile Intranet CMS - Communication and News Management can be read here!