You know you should get started on mobile communication. Not only has mobility become a central part of our personal daily lives, your workforce now also demands it in corporate culture.
Especially Millennials and Gen Z are used to an ongoing stream of feedback and communication via their smartphone and expect the same continuous conversation at work. In addition, with the war for talents coming to a peak, applicants are not afraid to demand what they want from their employers.
Work is no longer perceived as something we have to do but has successfully managed to become something we believe should enrich our lives. And successful companies need to adjust their communication to that shift.
Employee apps have understood this shift and enable companies to connect their distributed workforce as well as presenting use cases for every step of the employee lifecycle. The mobile applications increase engagement, bring the advantages of social sharing into the workplace and facilitate push notifications for further reach.
Having said as much, how do you convince your boardroom of an app for internal communication?
# 1 Understand your management's framework
Have a clear understanding of what your organization is trying to achieve, and why. Purpose is one of the driving factors to employees all over the world. Chances are this also applies to your management.
Understanding the goals of your company will establish a silver lining between the benefits of an employee app and your team's and organization's goals.
Arguments could be:
#2 Involve senior executives early in the process
Have management on board right from the beginning instead of trying to sell an idea to them later in the process. If they feel involved from day one they are more likely to support you later.
Investigate a challenge that is presented to the company (e.g.: poor internal communication) instead of presenting a solution without context. It's much more likely that the C-Level will support an investigation, than a solution.
Once the challenge is established come up with an idea to tackle the challenge (e.g.: the employee app).
During the process update your executives frequently in order for them to understand the solution better. In addition, the ongoing discussion enables you to receive insights and makes managers feel like they own the ideas.
#3 Provide several options beyond just yes or no
For example start the project with a research phase or a pilot. Another option is to roll out the app with a limited number of people, locations, languages or departments.
Another important factor to consider is that the Staffbase employee app provides the possibility to design personalised plugins on the basis of our APIs. So refrain from saying "no" and ask us instead.
#4 Be prepared for a second or third round
Chances are your leaders won't immediately love your suggestions. Instead of giving up collect open questions and doubts, negotiate a time frame, and immediately set a meeting for follow-up.
Take their problems into suggestion and don't overrule their worries. Rome wasn't built in one day either and often the people you talk to just havn't had the time to discuss the topic in-depth yet.
After the idea has sunk in and when given additional information you might hit upon fresh minds.
#5 Tell a persuasive story
Present your ideas in a convincing way. Easier said than done, but you need a convincing pitch and a story that is captivating as well as convincing.
A few tips to tell a story and bring your point across are:
Know your message: As a child we openly resist doing as we are told and even as an adult we are less open to arguments that are forced upon us. Instead of trying to push your opinion start with the why. Consider the reasons you want to do something and bring that across. The why is your message.
Find the right example: When trying to make a point we tend to be to abstract. Find a real live example that the people you are talking to can relate to and that they ideally have experienced before. Such examples create familiarity and understanding.
Weave your narrative: A strong structure is the basis of every story. Start with an example of why, go on with a solution, explain benefits and convey passion. Try to paint a picture that draws your audience in.
Support with facts: While some people may decide on emotion or just based on your story, many C-level executives will rather rely on numbers. Our tip: Close your presentation with some killer facts.
Download our SlideShare which is a (proven) example on how to build your argumentation for an employee app for inspiration: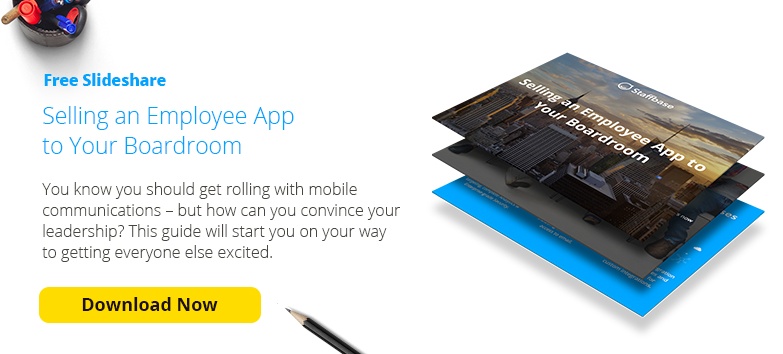 #6 Don't forget the "how"
While it's important to start with the why, don't forget to also be precise on the how. Present first steps to your audience, be prepared for different departments having questions and learn the new processes.
Resources that could help you are:
#7 Show me, I'll remember. Involve me, I'll understand.
An employee app is a hands-on product. The first step to get people excited hence is to show them what it looks like. Even better than showing them, is involving them.
Set up a test app with Staffbase and invite the C-level to try it out before you meet them. Using the app and seeing the functionalities in action make a better point than words ever could.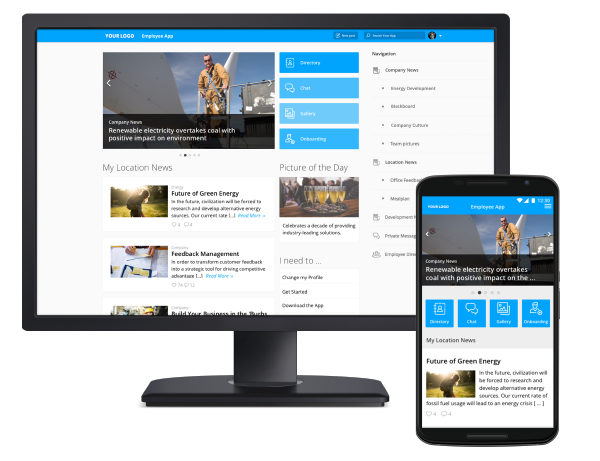 If you would like to learn more on the employee experience, mobile internal communication and the digital workplace don't hesitate to contact us or leave a comment below.
More articles that could be interesting for you: