Making relevant information available to each and every employee is an ongoing struggle for internal communications, especially these days when so many workers don't sit at a desk and have limited access to corporate email or the company intranet. Not only is there an access barrier to contend with, but there's also the matter of time. Workdays are often jam-packed, especially for service or field-sales workers, and there's usually little time remaining for collecting information, let alone for the purpose of communication. Lastly, there's an attention barrier. Competing with online news, Facebook, Instagram, etc., many companies fail to adequately reach their employees, especially when so many internal messages sound more like press releases than real, relevant news.
Successful internal communication channels need to challenge these barriers and do a better job of reaching all employees at the right time and with the right message and content. Based on these requirements, we've come up with the following eight guidelines for evaluating the most common channels for employee communication.
Eight Criteria for a Great Internal Communications Channel
Reach: 70% of today's employees work remotely (and due to freelancers and the growing gig-economy, these numbers are rising), making it particularly important to be able to reach personnel who not only sit at a desk, but who are on the factory floor or behind the counter. "The length of your reach is a clear measure of communication."
Real time: We've become more and more accustomed to real-time information and communication. Amazon offeres same-day delivery; Netflix gives us instant access to movies; and our smartphones enable us to be online no matter where we are. Is your channel able to deliver important company updates in a matter of minutes or hours rather than days?
Interaction: Does your information flow just one way, or is there a way back? Social interactions such as likes, comments, and sharing have become more and more important, and they're features that today's employees expect. They also serve to support bottom-up conversations and enhance horizontal communication, both of which are extremely important for promoting productivity.
Analytics: How many employees actually get the message? Too many communication channels fail to address this basic question.
Storytelling: Stories are a powerful way to get messages across. But telling stories is a lot easier with some channels than others. Creating new content on a regular basis and putting that task into the hands of your employees should be easy, not impossible.
Rich media: Visuals—pictures and especially videos—provide a great way to tell powerful stories. A picture is worth 1,000 words. If your video shoots thirty frames per second, then every moment of video is worth 30,000 words. Multiply 30,000 by 60 seconds—a common length for an explainer video—and you get 1.8 million words! Not bad.
Local: Corporate strategy discussions tend to get fewer comments on your internal blog than a conversation about a new cafeteria. That's not an invitation to skip out on strategy communication, but rather a reminder that valuing local content is a great way to establish a vibrant communications channel. More local means more relevant.
Costs: Internal communication is often seen as a "cost of doing business." Its effect on the overall success of a company is hard to measure, which is exactly why it's important, a) to start analysing it (see above), and b) to communicate as cost-effectively as possible.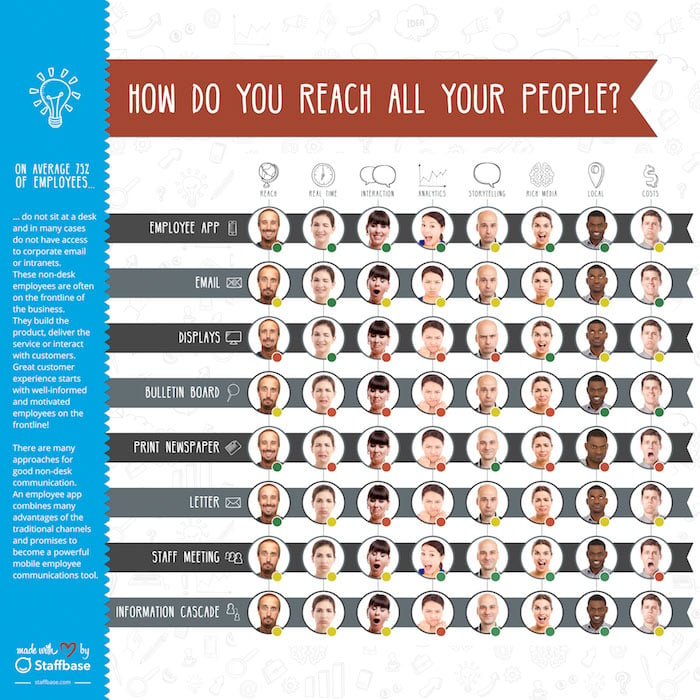 Click here for higher resolution.
You may notice that we've excluded intranets from this evaluation because they lack the necessary reach. They're often only available behind corporate firewalls or require time-consuming authentication processes. Don't confuse "accessible" (a term often used by IT to mean that there is a way to access a tool, though it might be hopelessly complicated) with "reach" (every morning people on the bus take out their smartphone and immediately see their updates without even logging in, etc.). "Accessible" is a theoretical possibility; "reach" is real and can be measured!
The Eight Channels
Employee App: An internal communications app is a powerful new option for corporate communications. And communication on such a tool is just one of many possibilities. Apps support all of your employee touch points such as learning, knowledge management, or employee self services.
Email: It may be fast, but even assuming that you have every employee's email address, its reach depends on a recipient's ability to slog thorough the muck of their swamped mailboxes. Not to mention that these days most employees aren't sitting at a desk, and it's hard to know if they even check their inboxes on a daily basis.
Displays: This is a good option if you have a lot of picture and video content. However, it's very limited in many ways and will often only be used as a supplementary channel.
Bulletin board: It's cheap and it's local, but is outdated in terms of speed, interaction, and analytics. Nor is it available for field workers. Furthermore, there's no way to measure the actual reception of messages or to communicate in crisis situations.
Print newspaper: Still widely used because of its reach and its branding/storytelling strengths. On the downside it's expensive, slow, and its effects are difficult to quantify. Corporate newspapers are therefore being removed in many companies. Check out our Vlog to learn how and why our customer Paulaner replaced their print magazine.
Letter: This is a good option for exceptional occasions such as a Christmas greeting from the board to all employees. But it offers no real benefit for day-to-day internal communications because it lacks speed, mobility, and measurable reach.
Staff meeting: Indispensable for the delivery of crucial messages, but it's expensive and its reach is limited to the people in the room. In addition, this is a top-down communication channel that simply doesn't work in terms of mobility.
Information cascade: While this may the backbone of information distribution within many companies, it greatly depends on the individual communication skills of the managers involved. Reach is also a challenge here—especially with field- and shift workers.
The mobile-first approach has taken over the workplace—especially when considering the need to integrate remote workers—and it provides a valuable opportunity for smart companies to increase employee engagement. While several of the above channels remain indispensable for internal and external communication, employee apps provide countless advantages in terms of speed, reach, and cost.
If you'd like to learn more about the employee experience, mobile internal communication, and the digital workplace, don't hesitate to contact us or to leave a comment below.
More articles that might interest you: