At a first glance, the mobilization of the intranet is a simple task. The few compelling examples on the market show that it is necessary to overcome some challenges. One of the most important is the decision as to which functions and information should be part of the mobile intranet.
Mobile devices like smartphones are not simply just another channel. The particular circumstances of the usage in this channel result in entirely new time and location dependent application cases. Airlines have made the complete ticket process mobile, coupons and discounts are supplied via mobile as needed and no one can imagine how it was possible to get around in a foreign city without a smartphone.
Need

for information in the mobile moment

The Forrester analysts have named this special feature of the mobile channel "Mobile Moment". Moments in which information, in particular through its special adjustment, become relevant to the user. For companies, "mobile moments" are also relevant. Diverse specific situations on the road, in sales or business trips are conceivable in which information in a particular context should be made mobile.
Information
opportunity

in the mobile moment

A special type of "Mobile Moments" is not explicitly described by Forrester but deserves, in particular from a business perspective, at least as much attention as the cases in which the user needs or is just searching for something. It is the many small opportunities during the day in which you are waiting on something, the last five minutes of the lunch break or the bus ride. The smartphone can quickly be whipped out and the brief moment can be bridged with one or two bits of information. 67% of cell owners find themselves checking their phone for messages, alerts, or calls — even when they don't notice their phone ringing or vibrating. The motivation here is not an acute need to have specific information but rather the information opportunity.

How penetrating and distinctive this effect is can be observed by anyone who regularly uses public transport. American adults age 18-29 are now equally as likely to get news from TV as from their cell phones – with TV being the undisputed primary news source over decades. Another impressive example provides a social media giant: in the third quarter of 2014 from the 864 million daily active Facebook users, an incredible 703 million users were mobile.

The special features of the mobile channel can thus be roughly divided into the two described cases - need and opportunity. This view helps by the classification of the best mobile applications.
Which applications should be mobile supported?
Modern intranets include communication functions, support for knowledge work, networking and projects. Examples include virtual workspaces, advanced profiles or document libraries. This makes these systems for opportunity mobile users very complicated and confusing. Not everything that the modern digital workplace offers is also suitable for use with the smartphone.
Communication:
Communication is extremely important for mobile availability. Companies today usually don't have a problem to immediately coordinate work assignments. The catch is that you have to see the big picture, to understand what is happening left and right of your desk and why it is happening. This task should be the responsibility of the intranet, newsletters or employee magazines.
The good news: It is precisely this that leads to new opportunities. Communicators have, with a mobile version of the intranet, a completely different way to provide regular information to employees of all age groups and areas and the perfect timing for the right mobile moment.
Target group: All employees
Complexity: Low
Security requirements: Low
Mobile moment: Information opportunity
Information:
A mixed view shows static information such as work instructions, contact information or location descriptions. The entire intranet should not be made available as in a large company as there are often thousands of content pages and the mobile option would not offer any added value. Key questions: which information is important for most employees, not security critical and should be easy to access.
Target group: All employees
Complexity: Medium
Security requirements: Low
Mobile moment: Specific information needs
Collaboration:
Information material from cooperation and projects are two reasons against a full mobile priority. On one hand, information security, as in this case company critical information and documents can be moved. An – even password protected – availability on private devices is not anoption for many companies. On the other hand, projects are about knowledge work and creating and not about consuming. Mobile devices will clearly reach their limits here. Who uses a smartphone or tablet when a long text has to be written? An exception is the pure team communication in projects. The aim is often to distribute updates from the team and project environment – the exact nature of the mobile moments makes it difficult to differentiate and is different in each team.
Target group: Information workers
Complexity: Medium to high
Security Requirements: Medium to high
Mobile moment: Information needs and opportunity
Processes:
The mobilization of support processes such as invoice approvals, work schedules, time tracking or vacation requests are strongly dependent on the characteristics of each process. Key question: which processes are important for most employees, not safety critical (personal data) and have a time-critical component - that should be completed as quickly as possible? Safety-critical core processes can also be handled mobile. The high cost of such a solution must then be covered by the actual realized process benefits.
Target group: Process worker
Complexity: Medium to high
Security Requirements: Medium to high
Mobile moment: Specific reason / need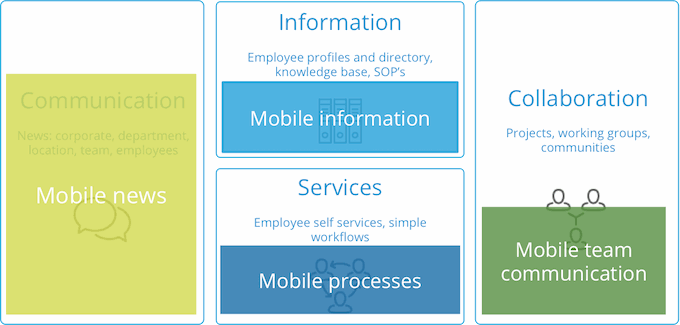 The future of the digital workplace "Appt Out"
The mobile availability of information and functions is not a simple feature amongst others, but a central and critical requirement. In order to implement this requirement, the digital work place must be planned from the start for mobile content and technology.
The future of the digital workplace is not in a large cross-platform, where all of the described applications are listed. That would be to repeat the mistakes of the large employee portals, where lots of time and money has gone into "integration palaces" but employees cannot or will not use it.
The way forward sees applications "Apps" of all kinds compiled on an easy to navigate interface. The user can then use the most suitable app for their specific task. The modern digital work place will consist of single, standardized but highly functional applications that are connected to each other over basic services (e.g. users, search, home, navigation). The still far too long planning and design phases of the intranet give way to a continuous update or new orientation of individual applications. Some applications will be available everywhere and be easily accessible via mobile, others only in the corporate network.
The digital work place will be technically and functionally in touch with the latest trends and thus finally offer in the company evenly matched user experience.