The workplace is changing: In the industrial era, the focus was on laborers and what they were able to produce with their hands. In the information age, knowledge became the new product and had a prime influence on the economy. But now we are entering the cognitive era and another change is taking place. The lines between employees and technology are blurring, and instead of focusing solely on numbers, the employee experience (EX) is shifting into focus.
This development is influenced by millennials and Gen Z, along with the digitization of nearly every aspect of our lives. The 9-to-5 workday has died in the wake of the overarching impact of the Internet, and today's millennials confess to being online and working almost constantly.
The Guardian interviewed Mihalis Monemvasiotis, 29, co-founder of the production company Pied Piper Pictures in London, who quite nicely summed up how millennials approach work: "Finish working at five? How can you finish work at five?" asked the young filmmaker in the interview. "Some people are just waking up at 5pm – I have to Skype people in New York at that time, and stay up late waiting for people to wake up in Tokyo."
Working like this, in constant motion, has led employees to the expectation that they deserve a new kind of relationship with and to their work. Smart companies react to this change. In fact, 83% of HR leaders now believe that the employee experience is either important or very important; 56% plan to invest more in training; 51% plan to improve the work spaces; and 47% plan to give more rewards.
Apart from millennials and Gen Z, another large sector of the workforce asking for change are non-desk workers. 70% of today's workforce don't sit at a desk; they miss access to communication tools such as the intranet and emails. Communication silos and information loops have become a persistent problem for many companies with mobile employees, especially for their communication and HR departments.
But what most employees do have is access to is their smartphone. With additional numbers of freelancers, gig-workers, and Gen Z flooding the workspace, communication utilizing this tool will become a central practice for profitable companies.
Ongoing technological developments and new digital requirements put pressure on employers who not only have to keep up in order to attract and retain talent, but to reach and engage their workforce. They are not only competing for their employees' attention with Facebook and Instagram; their need for reach is higher than ever before. And they are being asked to create a consumer-like experience for their employees.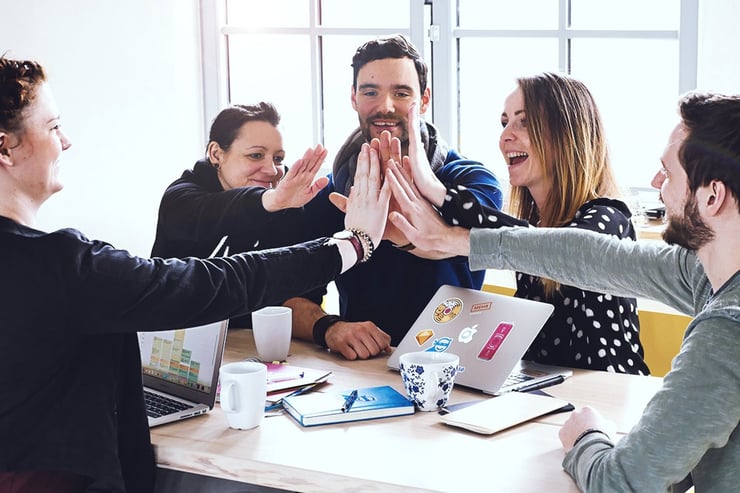 Why Should Employers Give in to this Trend?
According to a Gallup poll, U.S. employee engagement at work has remained stagnant over the last several years at only 32%, and companies with highly engaged workforces outperform their peers by 147% in earnings per share. Smart companies have effectively tackled the customer experience; smarter companies will now master the employee experience.
With the US unemployment rate down to 4.6%, the war for talent has only just started. In order to attract and retain millennials and Gen Z, a holistic employee experience is needed.

In addition, the younger generations, which since 2016 make up more than 50% of the workforce, are job-hoppers, resulting in turnover rates that cost the US economy $30.5 billion per year.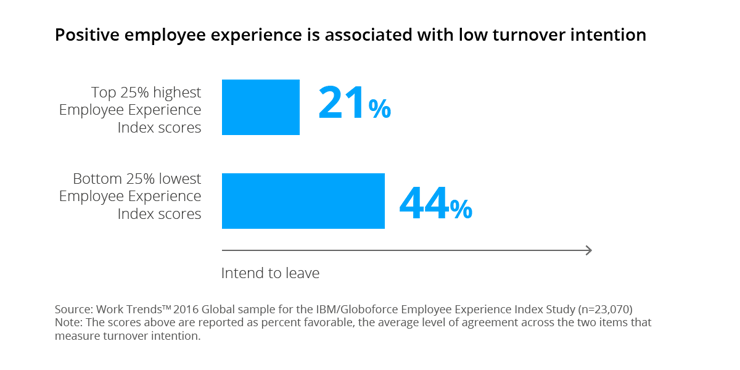 A positive employee experience will create a positive employer brand, a perception which is becoming just as important as the customer brand.

Furthermore, the Globeforce Employee Experience Study has found that EX is positively associated with work performance. The more satisfied and appreciated a company's employees are, the more likely they are to work harder, which results in higher performances.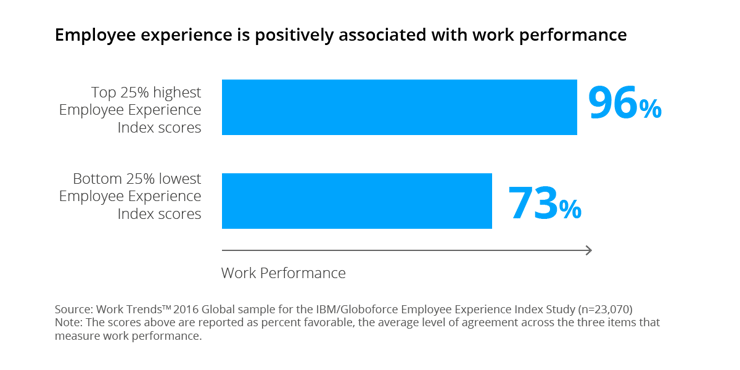 The employee experience is highly connected with employee engagement, but it takes a wider approach and is more actionable. EX doesn't reduce the employee to one factor, but rather encapsulates the whole, and with this approach manages to increase engagement while also creating workplaces in which we would all like to work ourselves.
What Constitutes the Employee Experience?
Physical environment:
Jacob Morgan, author of "The Future of Work," has said the physical environment is "the one we can see, touch, taste, and smell. It's the art that hangs on the walls, the office floor plan, the demographics of the people we work with (old, young, diversity, etc.), and any physical perks we might get, such as catered meals in a beautiful cafeteria."

Coworking space in Shanghai, ©picture by Eterna S
We spend most of our day at work. It's consequently important to be in a place where you feel comfortable. If you had the choice, would that be a dark little cubicle or a loft with bookshelves and plants growing on the walls? Exactly.
Working in a comfortable environment is not only connected to a vague feeling of contentedness, but having more light, air, and space results in actual physical reactions that influence our productivity, such as reduced headaches and fatigue.
Tools and technology:
The technological environment refers to the tools your employees need to do their work. And to do it well. This includes telephones and computers but also apps, software, the intranet, and e-learning.
Slow, old, or non-existent technology makes processes strenuous and, quite frankly, wastes time that could otherwise be spent more efficiently, so the main goal of workplace technology is to make your day easier. Popular devices in this field are smartphones and laptops, which most of us depend on every day, but new generations in the workforce also want employers to step up their game to utilize even more advanced technologies such as virtual reality and wearables.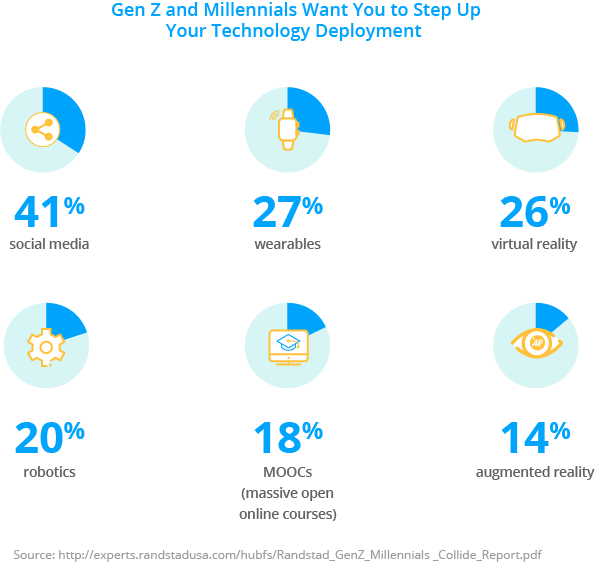 While these new technologies are no doubt exciting, the challenge will be to balance the practicality of their use with their potential to distract, and to facilitate them in such a way that will enable a workforce.
Culture and environment:
The culture is probably the aspect of the workplace experience that is most talked about. It comes down to the feeling you get when working somewhere, the vibe of a place. It's often not something you can touch but rather a set of guidelines and behaviorisms implemented in a workplace.

Famous examples like Netflix act out their culture by giving their employees unlimited vacation days, but culture is something even small companies can establish because it ultimately comes down to communication and treating each other well.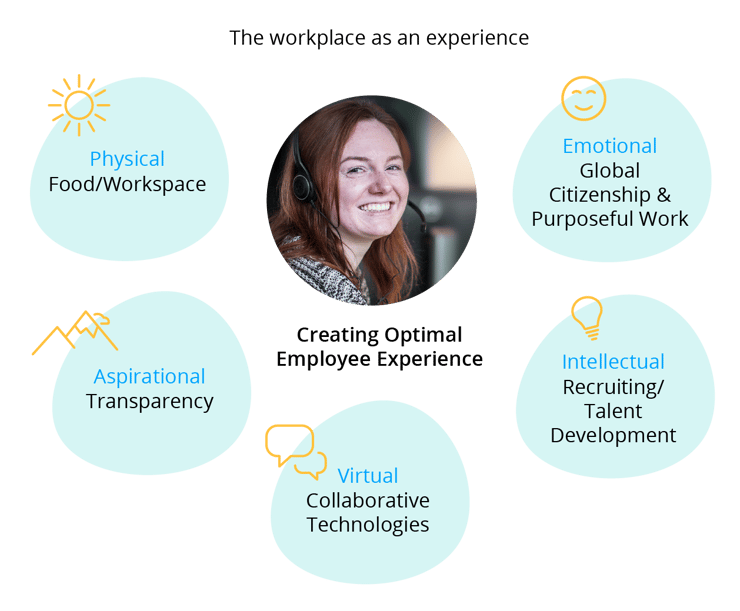 You create a holistic experience that drives engagement and weaves work and life together.
How Is the Employee Experience Actionable?
Think long-term and leverage the most commonly used device: The smartphone. And facilitating the smartphone is as simple as using an app.
Not only does mobile communication with an employee app line up with the digital roadmap, but it also directly influences the employee experience at every step in the employee lifecycle (ELC). The ELC consists of all the steps or processes in which an employee participates during his or her relationship with an organization.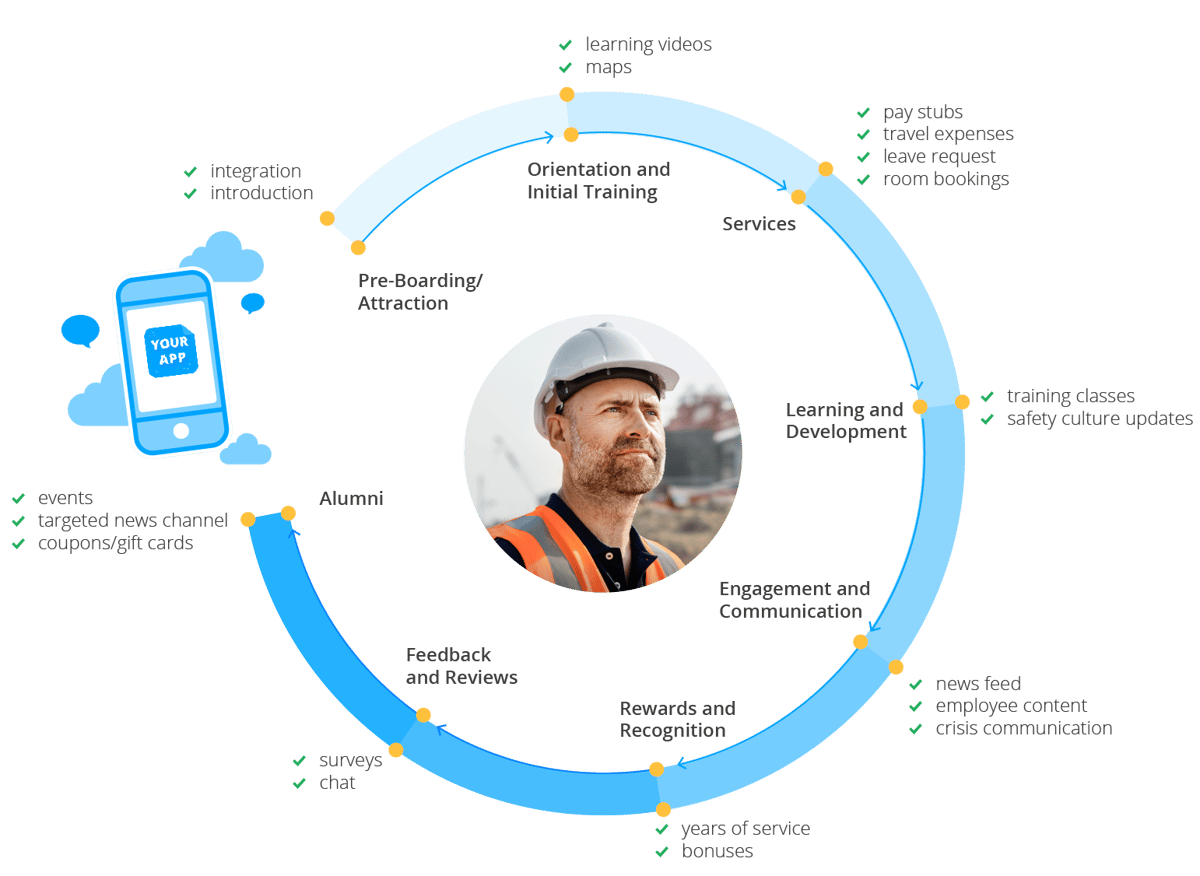 While the ELC is mainly chronological, everything from engagement to feedback runs parallel and must be coordinated constantly.
In the above graphic, each step contains example use cases. Together these use cases create a positive and ultimately human workplace experience that enables your employees to do their best possible work and to exploit their full potential.
For your employees it doesn't matter if corporate news are published by Internal Comms, the annual employee survey is sent by HR, and the e-learning course is developed by the Training team. For them it's all coming from one place: your organization, and it should be accessible in one place in order to create an enjoyable, unified employee experience.
Since you especially want to include non-desk workers and Gen Z, private smartphones offer the best possible channel to use. With an employee app as the basis to the experience, you will provide your workforce with a single point of identification with your company. Branded with your own logo, the employee app will become the go-to-place for your personnel to interact with your company.
If you would like more details about how each touchpoint in the employee lifecycle can be enhanced with an app, please read our blog here.
In Summary:
It's easy to say that the employee experience is just another buzzword in internal communication and HR. A concept made for Silicon Valley-bred startups. But what it really comes down to is the way we work and interact with one another. Even small measures can go a long way, and with apps such as Staffbase the concept becomes easily actionable for business of all sizes.
To quote author, motivational speaker, and marketing consultant Simon Sinek, "Customers will never love a company until the employees love it first." The aim to create a compelling employee experience is ultimately the aim to drive your company forward.
Should you like to learn more about the employee experience, mobile internal communication, and the digital workplace, feel free to contact us or leave a comment below.
More articles that could be interesting to you: