Reading the latest company news on a regular basis? For employees, this often constitutes a further burden that needs to be taken care of in addition to many other tasks on the job. No one wants to spend his or her time reading boring messages that are written in such a complicated style that you cannot understand what is being said anyway.
Try to make your communication a whole lot more accessible instead of using too limited communications channels that do not reach your audience. Soon, you will notice that your messages actually reach your staff and thus become more effective! With your messages, you can contribute to a positive corporate culture and sustainably enhance employee engagement.
Increase Employee Engagement with Positive Corporate Communications
Our communication can be either positive or negative. If we constantly remind our employees of the code of conduct and the rules of our business with our messages, this will naturally cause a negative reaction. Frequent complaints, more sick days, increased turnover and lower employee performance are just some of the consequences.
A positive communication contributes to greater employee confidence in the company. The employee engagement increases and thus has a positive effect on productivity, customer satisfaction and profitability.
In addition to emotions, the contents of the messages also play an important role. There are certain things that every employee should know just to be able to really feel part of the whole and participate in the best possible way. This includes the values and the vision of the company, for example.
10 Things That Need To Be Communicated
To ensure that all employees can pull together and work together for the shared business objective, there are 10 things they absolutely need to know. Communicators must find a way to make sure that this information reliably reaches their employees: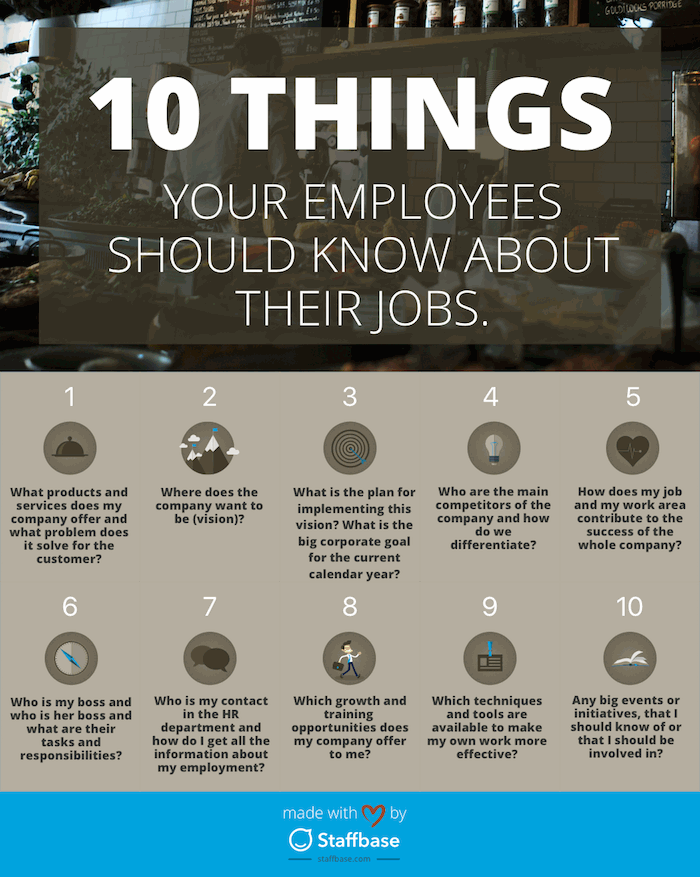 What products and services does my company offer and what problem does it solve for the customer? How is the customer's life positively influenced by my company's offering?
How can the vision of the company be summarised in a few words? WHERE does the company want to be?
What is the stated mission of my organisation? WHAT is the plan for implementing this vision? What is the big corporate goal for the current calendar year?
Who are the main competitors of the company and how do we differentiate?
How does my job and my work area contribute to the success of the whole company?
Who is my boss and her boss and what exactly are their tasks and responsibilities?
Who is my contact in the HR department and how do I get all the important information about my work?
What growth and training opportunities does my company offer to me?
Which techniques and tools are available to make my own work more effective?
What big events or initiatives are available within my company that I should know of or that I should be involved in?